10 Best Android Apps for Business!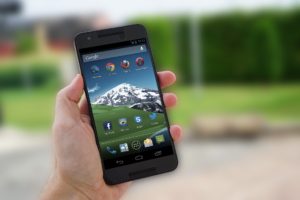 You work hard running your small business, so let your Android smartphone or tablet help you by downloading the right apps. Desktop PC apps keep you on top of things at the office, but why stay chained to your desk when you have a powerful computer right in your pocket?
Microsoft Office for Tablets (Free)
Android tablet owners don't have to waste their time with Microsoft's super-limited Office Mobile apps, which were the only option for mobile office users until recently. Now Microsoft has launched a full-featured version of Office for Android tablets. The Android apps, which include Word, PowerPoint and Excel, are a lot like the full desktop versions, right down to the iconic options ribbon at the top of the interface.Web Designers London And they're optimized for touch devices, with large, easy-to-tap buttons. Plus, they integrate with Microsoft's One Drive cloud-storage platform, so your documents stay synced across all your devices. The Office for Android apps aren't available for Android smartphones just yet, however.
Google Docs, Sheets and Slides(Free)
The best productivity suite for Android smartphones is still Google's own collection. The apps include word processor Docs, spreadsheet editor Sheets, and presentation maker Slides. Google's apps have more features and a cleaner, more attractive interface than competing office apps on the platform. They also offer better tools to insert tables, images, charts and other complex elements into your documents, and they're compatible with Microsoft Office files, so you can seamlessly transition between your desktop computer and your mobile device. And since you can edit offline now, you never have to worry about losing service.
Google Drive (Free)
There are quite a few solid cloud-storage options available for Android, but Google Drive is our top pick, because this service comes built right into the operating system. Like similar services — Dropbox, Box and OneDrive, to name a few — Google Drive lets you store files and documents online, so they're backed up and accessible from anywhere on any Android device with an Internet connection. As a bonus, Google Drive is integrated with QuickOffice; just sign in with your Google account credentials to get access to all documents stored in the cloud. Plus, every edit you make in QuickOffice is automatically backed up to Google Drive.
Microsoft Remote Desktop (Free)
For small business owners, Microsoft's Remote Desktop app is a reliable – and secure – way to connect remotely to your work PC from your Android phone or tablet. It's also a simple way to use your Windows applications on the go. For example, you can take advantage of the full desktop versions of Microsoft Word or Excel right from your smartphone or tablet to view and edit documents from anywhere.
OneNote (Free)
Microsoft's OneNote has a few advantages over competing note-taking apps. For starters, we prefer its easy-to-use interface; Evernote may have more in-depth features, Web Designer London but it's not as user-friendly as OneNote. Plus, OneNote automatically syncs all your notes to OneDrive, so they're backed up and accessible via the cloud. We like the OneNote integration because it works with your existing Microsoft account, so there's no need to create and maintain another account. OneNote works best with a stylus-equipped device, such as those in Samsung's Galaxy Note line, so you can draw diagrams and write notes by hand. The app can even transcribe handwritten notes so they're searchable later on.
QuickBooks for Android (Free with a Quickbooks desktop subscription)
QuickBooks offers solid accounting tools to help you track and manage your finances. The Android app isn't a fully-featured, mobile version of the QuickBooks desktop application; think of it as a mobile companion app with useful tools to help you track sales, send out invoices and review recent payments when you're away from the office. It requires a QuickBooks subscription, but a free 30-day trial is available.
Square Register (Free)
No small business is too small to accept credit cards, and you don't need a lot of special equipment to do it. Once you download the Square Register app, you can sign up to receive a credit card reader dongle free in the mail. Just plug the dongle into the headphone jack on your iPhone, and swipe a credit card to start processing payments on the go. The app also allows you to enter credit card information manually. Square takes a cut of every payment, but face it: If your business doesn't accept credit cards, you are losing out on business.
AirDroid (Free)
Checking your smartphone for messages from clients or employees can break your concentration and make your productivity plummet. That's where AirDroid comes in. Just install the app on your Android smartphone, then install the desktop client on your computer to read and send texts and view call logs on the big screen you're already focused on. The app also makes it easy to quickly add or remove files from your phone's internal storage.
Skype (Free)
If you need a solid video conferencing app to meet remotely with employees or clients, it's hard to beat the service that's synonymous with video chat. The Skype app for Android lets you make video calls using the front-facing camera on your handset. The platform is flexible, so you can connect with users on nearly any device. And if you're away from the office, it can virtually drop you into a staff meeting.
aCalendar (Free)
Our favorite overall calendar app for business users on the Android platform is the innocuously named aCalendar. Simply put, the app strikes the best balance between ease of use and powerful features. It hits all the basics, making it easy to toggle between day, week, month and year views. Plus, setting reminders for important engagements is a snap. On top of that, a Calendar has a bunch of business-specific features, like the option to schedule a meeting and invite attendees without leaving the app
Reference: Business News Daily